ClearFlow Exhibits PleuraFlow System at Society of Thoracic Surgeons Annual Meeting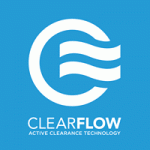 Groundbreaking Device Designed to Prevent Retained Blood Syndrome Draws Crowds in San Diego  
Anaheim, CA – January 26, 2015—ClearFlow Inc., a medical device company based in Anaheim, CA, is currently exhibiting its innovative PleuraFlow® Active Clearance Technology® System at the Society of Thoracic Surgeons (STS) 51st  Annual Meeting in San Diego. PleuraFlow will continue to be displayed at ClearFlow's booth (#636) at STS today and tomorrow.
ClearFlow's PleuraFlow System uses a first of its kind technology to enable caregivers to proactively keep chest drainage tubes clear of blood clotting in the early hours after heart surgery.
PleuraFlow's appearance and display at STS follows on the heels of Maquet Medical Systems USA's announcement last week that the companies have agreed to an exclusive distribution agreement for the PleuraFlow System in the US.  "We are very pleased to form this alliance with such a renowned and well-respected medical device company," said ClearFlow President & CEO, Paul Molloy. "Maquet is the world market leader in thoracic drainage for patients recovering from heart and lung surgery.  We share Maquet's goals of improving patient outcomes and reducing hospital costs with highly innovative novel medical device technologies, and look forward to a mutually beneficial relationship."
PleuraFlow also recently announced compelling clinical data on the use of the device. The clinical data was presented at the Cardiovascular-Thoracic (CVT) Critical Care 2014 annual meeting last October, organized by the Foundation for the Advancement of CardioThoracic Surgical Care (FACTS-Care) in Washington, DC.
A common issue in hospitals, chest tube clogging is known to occur in over one-third of heart surgery patients, and nearly one in five can have some form of complication that includes the need to perform subsequent re-operation or interventions to remove blood, blood clot or bloody fluid from the pericardial or pleural spaces after cardiac surgery.  These complications are referred to as Retained Blood Syndrome (RBS).
"We're excited to be able to share what we've been working on with the surgeon community," said Clear Flow Co-Founder Ed Boyle, MD.  "We've exhibited at STS before, but not since receiving our dramatic, positive clinical data that clearly demonstrate that PleuraFlow Active Clearance Technology is superior to the currently used methods to remove shed blood from around the heart and lungs after heart surgery.  What this translates to is a clear clinical benefit for patients that also translates to a significant economic value for hospitals and payers."
Procedures to remove retained blood are the most common invasive reinterventions after heart surgery and atrial fibrillation is the most common complication after heart surgery.  PleuraFlow is the only medical device on the market that significantly lowers both these common and expensive preventable hospital complications.
The company is currently raising capital to expand its product offering and market reach. The PleuraFlow Active Clearance Technology System is approved for use in the U.S., Europe, Australia, Brazil, and Canada, and has either cleared or Is pending clearance in over a dozen additional countries.
About ClearFlow, Inc.
ClearFlow, Inc. is an Anaheim, CA based medical device company that has developed a patented active blood and fluid evacuation system to speed recovery, reduce complications and lower healthcare costs. The company has been awarded several prestigious awards, including the European Association of Cardiothoracic Surgeons Techno-College Innovation Award for worldwide innovation that has the potential to change the standard of care in heart and lung surgery, the Innovations in Cardiovascular Interventions Award and the Gold Medical Design Excellence Award as well as the International Medical GOOD DESIGN Award, among others.
 ###
 PleuraFlow and Active Clearance Technology are registered trademarks of ClearFlow, Inc.
Media Contact:
Paul Williams
310/569-0023
paul@medialinecommunications.com