FlowGlide Technology for Cardiac Surgery Patients, Cleared by FDA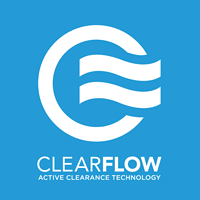 Anaheim, CA – June 20, 2017 — ClearFlow, Inc., a medical device company based in Anaheim, California, announced today that the United States Food & Drug Administration (FDA) has granted 510[k] clearance for the company's proprietary FlowGlide™ Active Clearance Technology® System.
The FlowGlide™ System is the next generation of ClearFlow's Active Clearance Technology that prevents or reduces chest drains from occluding with clot, which can lead to retained blood around the heart and lungs. The composite of drainage-related complications that are detrimental to outcomes after cardiothoracic surgery and that may require early or late intervention to remediate is known as Retained Blood Syndrome (RBS). These clinical complications have significant economic consequences, including higher costs of care for patients, hospitals, and society at large.
"ClearFlow is committed to rapid technological innovation and this new generation of devices will offer features and benefits never before seen in ClearFlow products. It will also be available in shapes and sizes that previously were not available in our first generation of PleuraFlow devices," said ClearFlow CEO Paul Molloy. "Our PleuraFlow Active Clearance Technology System was the first FDA cleared device indicated to maintain chest drain patency and to reduce retained blood for adults and children recovering after heart surgery. We are delighted that the US FDA cleared our latest technology which represents another advance in cardiothoracic surgery care.  This is a significant step towards the establishment of a new best practice for post-surgical chest tube patency in the ICU."
"Active clearance of chest tubes has been shown in clinical trials to be superior to passive drainage in preventing RBS," added cardiothoracic surgeon and ClearFlow co-founder Ed Boyle, M.D. "The new design helps resist kinks, and allows positioning of the catheters into harder-to-reach areas in the postoperative chest, effectively expanding the use within the field of cardiothoracic surgery."
About ClearFlow, Inc.
ClearFlow, Inc. is an Anaheim, CA based medical device company that has developed a patented active blood and fluid evacuation system to speed recovery, reduce complications and lower healthcare costs related to medical tube obstruction. The company has been awarded several prestigious awards, including the European Association of Cardiothoracic Surgeons Techno-College Innovation Award for worldwide innovation that has the potential to change the standard of care in heart and lung surgery, and the Innovations in Cardiovascular Interventions Award, among others.
###
 PleuraFlow, Active Clearance Technology, and FlowGlide are registered trademarks of ClearFlow, Inc.
Media Contact:
Paul Williams
310/569-0023
paul@medialinecommunications.com