ClearFlow Named MM&M Award Finalist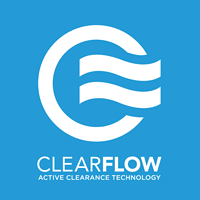 Anaheim, CA – July 14, 2016—ClearFlow Inc., a medical device company based in Anaheim, California, has been named a finalist for this year's Medical Marketing & Media (MM&M) Awards. MM&M, the premier business publication serving the healthcare industry for nearly 50 years, named ClearFlow's interactive website among the five finalists in the category of Best Branded Website for Healthcare Professionals.' Winners will be announced at the MM&M Awards ceremony on October 6, at a black-tie dinner at Cipriani Wall Street in Manhattan.
The finalists survived a gauntlet of two rounds of judging performed by about 125 healthcare marketers. ClearFlow's site, with its clean design and physician-friendly resources and blog, was among those singled out as best in the category.
Designed by its agency, Bloom Health Creative, ClearFlow's site goes well beyond the traditional marketing of a product line. Rather, it serves as a resource to inform the clinical community about mounting clinical evidence regarding Retained Blood Syndrome (RBS), a condition which results from blood accumulating in the patient's chest after heart surgery. Approximately 20% of all adult cardiac surgery patients have to endure additional procedures as a result of complications from retained blood, which of course are not only detrimental to patients but also place a huge burden on healthcare costs. The site, with its "FLOW BETTER" catch phrase, also introduces surgeons and other healthcare professionals to ClearFlow's PleuraFlow Active Clearance Technology – the only FDA-cleared device available that enables caregivers to proactively keep chest drainage tubes clear of blood clots to minimize retained blood after heart surgery.
The site's takeaway message for clinicians is that now, finally, there is a way to take a proactive move to protect patients from the complications that arise due to retained blood after heart surgery and save hospitals the additional costs associated with these complications. Thus, the "FLOW BETTER with ClearFlow" messaging of the site came to be.
"We're particularly pleased to be recognized for our clinician-facing site, because it means we are being effective in terms of getting vital information about Retained Blood Syndrome to surgeons and other healthcare professionals," said ClearFlow's CEO, Paul Molloy. "It's a message that is both relevant and timely as new reimbursement policies and MediCare penalties for complications drive sensitivity to our approach to improving clinical outcomes and health economics . Hospitals today are burdened with the significant cost increases due to complications from retained blood. Our goal with the website has been to make clinicians aware of RBS and introduce a simple and practical solution to the problem."
Molloy added that since the launch of the clearflow.com website and the FLOW BETTER message, ClearFlow has achieved a 3-fold increase in sales during their first fully-operational year and a 5-fold increase in the second year.
The PleuraFlow Active Clearance Technology System is approved for use in Europe, Australia, Brazil, the U.S. and Canada, and other countries in Asia and the Middle East.
About ClearFlow, Inc.
ClearFlow, Inc. is an Anaheim, CA based medical device company that has developed a patented active blood and fluid evacuation system to speed recovery, reduce complications and lower healthcare costs related to medical tube obstruction. The company has been awarded several prestigious awards, including the European Association of Cardiothoracic Surgeons Techno-College Innovation Award for worldwide innovation that has the potential to change the standard of care in heart and lung surgery, and the Innovations in Cardiovascular Interventions Award, among others.
###
PleuraFlow and Active Clearance Technology are registered trademarks of ClearFlow, Inc.
Media Contact:
Paul Williams
310/569-0023
paul@medialinecommunications.com