Reduction in Bleeding Complications After LVAD Implantation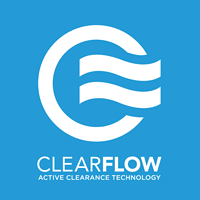 ClearFlow Announces New Clinical Study with Positive Results for the PleuraFlow System
Anaheim, CA – November 15, 2016. ClearFlow, Inc., a medical device company based in Anaheim, California has announced the publication of positive results in a clinical trial evaluating the PleuraFlow® Active Clearance Technology® System. Data indicating a marked reduction in Retained Blood Syndrome (RBS) among patients recovering from implantation of left ventricular assist devices (LVAD) was published in the November/December 2016 edition of the American Society of Artificial Internal Organs (ASAIO) Journal (Vol. 62, Issue 66, p. 704-709). Data from the peer-reviewed paper, titled "Active Clearance of Chest Tubes Reduces Re-exploration for Bleeding After Ventricular Assist Device Implantation" was originally presented on April, 2016 at the annual International Society of Heart & Lung Transplantation (ISHLT) meeting in Washington DC.
Left ventricular assist devices (VAD) are routinely used to partially or completely replace the function of a failing heart, often as a support measure for patients awaiting heart transplantation. One of the most prevalent events hindering recovery in many patients is early postoperative bleeding, where nearly a third require a return to the operating room for bleeding, and some are unable to undergo closure of their chest immediately after the surgery (known as delayed sternal closure) due to bleeding.
Plus, many patients require additional chest tubes to be inserted in the ICU to remove retained blood. This new study, completed at Vanderbilt Medical Center, analyzed 252 patients undergoing VAD implantation with one group receiving conventional chest tubes, and an additional group receiving the PleuraFlow Active Clearance Technology System. Patients treated with PleuraFlow Active Clearance of their chest tubes had a 65% reduction in the need for take back for re-exploration for bleeding, an 82% reduction in the need for delayed sternal closure, and a 57% reduction in the need for supplemental chest tubes to drain retained blood.
"The results of this study demonstrate a substantial reduction in bleeding complications for this challenging patient population," said Edward Boyle, MD, the founder and chairman of ClearFlow Inc. "What has been demonstrated is that bleeding complications can be reduced further by simply making sure that drainage of shed postoperative blood is not compromised due to occlusion of chest tubes during the early hours after surgery when coagulopathy is being corrected."
"This new data represents not only a substantial clinical benefit, but one that is certain to register on at the healthcare economic level," said Paul Molloy, CEO of ClearFlow, Inc., which sponsored the study. "Healthcare value is a function of maximizing patient outcomes and reducing costs, and this simple intervention is poised to do both in this important population of heart failure patients."
About ClearFlow, Inc.
ClearFlow, Inc. is an Anaheim, CA based medical device company that has developed a patented active blood and fluid evacuation system to speed recovery, reduce complications and lower healthcare costs related to medical tube obstruction. The company has been awarded several prestigious awards, including the European Association of Cardiothoracic Surgeons Techno-College Innovation Award for worldwide innovation that has the potential to change the standard of care in heart and lung surgery, and the Innovations in Cardiovascular Interventions Award, among others.
###
PleuraFlow and Active Clearance Technology are registered trademarks of ClearFlow, Inc.
Media Contact:
Paul Williams
310/569-0023
paul@medialinecommunications.com