New ClearFlow Distribution Center to Service European Market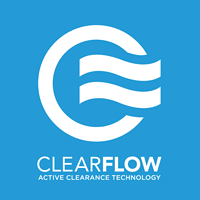 Elsloo, THE NETHERLANDS – September 28, 2016 — ClearFlow, Inc., a medical device company headquartered in Anaheim, California and with a European office in Amsterdam, has announced the opening of its new dedicated European Service Center near Maastricht, the Netherlands.
ClearFlow is the maker of the PleuraFlow® Active Clearance Technology® System, which proactively prevents or minimizes chest tube clogging. A chest tube that is occluded can lead to retained blood around the heart and lungs, which in turn leads to an increase in likelihood of complications and extended hospital stays. The PleuraFlow System is approved for use in the U.S., Europe, Australia, Brazil, and Canada, and has either cleared or is pending clearance in over a dozen more countries.
With mounting published clinical evidence of complications caused by retained blood, demand has been on the rise for the PleuraFlow System, the only device available that enables caregivers to proactively keep chest drainage tubes free from occlusion.
ClearFlow has been shipping its products to European customers at a steadily growing rate. The new Service Center in The Netherlands has been established to accommodate this growth and the needs of the increasing European customer base. This facility is a significant investment for ClearFlow and is expected to improve the delivery and support for distribution of the PleuraFlow System throughout Europe, the Middle East and South Africa.
"The opening of our European Service Center is another key step in our growth," said ClearFlow CEO Paul Molloy. "By maintaining suitable quantities of PleuraFlow technology at this new facility we are making a concerted effort to better service our non-US customers by improving lead times and helping customers to save on the costs associated with shipping product from the US. Our global business has always been in place to support the work of surgeons in Europe, and we will continue working to achieve an even better customer experience now and into the future."
About ClearFlow, Inc.
ClearFlow, Inc. is an Anaheim, CA based medical device company that has developed a patented active blood and fluid evacuation system to speed recovery, reduce complications and lower healthcare costs related to medical tube obstruction. The company has been awarded several prestigious awards, including the European Association of Cardiothoracic Surgeons Techno-College Innovation Award for worldwide innovation that has the potential to change the standard of care in heart and lung surgery, and the Innovations in Cardiovascular Interventions Award, among others.
###
PleuraFlow and Active Clearance Technology are registered trademarks of ClearFlow, Inc.
Media Contact:
Paul Williams
310/569-0023
paul@medialinecommunications.com