2011 Medical Design Excellence Award (MDEA)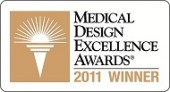 Tucson, AZ (June 21, 2011)—The PleuraFlow® Active Tube Clearance® System (PleuraFlow® ATC) was honored with the Gold Medical Design Excellence Award (MDEA). The 2011 MDEA Winners Ceremony was held June 8, 2011 in conjunction with the Medical Design & Manufacturing (MD&M) East Conference and Exposition (www.MDMEast.com) in New York City's Jacob K. Javits Convention Center.
The PleuraFlow® ATC prevents chest tube clogging after heart and lung surgery. It consists of a magnetically driven guide wire that is advanced into the PleuraFlow® Chest Tube to remove any tube obstructions or clogging. Pleuraflow® ATC was design and developed by Clear Catheter Systems, Inc, (Bend, OR) in conjunction with Carbon Design Group (Seattle, WA).  Clear Catheter Systems teamed up with Xeridiem Medical Devices (Tucson, AZ) to design and develop the manufacturing process as well as manufacture and distribute the product.
The PleuraFlow® Active Tube Clearance® System product is being used in the US, EU, and Canada to help patients recover from heart surgery safely and comfortably. "We appreciate the contribution from Carbon and Xeridiem to help us bring this product to market," said Edward Boyle, the CEO of Clear Catheter Systems.  "This award demonstrates our ability to work closely with medical innovators to bring novel products to market quickly, effectively, and on budget," said Joseph Lee, xeridiem's President.
The Medical Design Excellence Awards competition (www.MDEAwards.com) is organized and presented by UBM Canon (Los Angeles) and is the only awards program that exclusively recognizes contributions and advances in the design of medical products. Entries are evaluated on the basis of their design and engineering features, including innovative use of materials, user-related functions that improve healthcare delivery and change traditional medical attitudes or practices, features that provide enhanced benefits to the patient, and the ability of the product development team to overcome design and engineering challenges so that the product meets its clinical objectives. A comprehensive review of the entries was performed by an impartial, multidisciplinary panel of third-party jurors with expertise in biomedical engineering, human factors, industrial design, medicine, and diagnostics. A select number of recipients were given the prestigious Gold designation.
About xeridiem
Xeridiem is a designer, developer and manufacturer of complex single use medical devices.  For over 25 years xeridiem has enabled major companies and venture-backed entrepreneurs to launch over 200 medical devices that have become standards of care.
Xeridiem orchestrates medical device development with an emphasis on design for manufacturability.  Our services help client's bridges the gap between concept and commercialization.  Whether you are an established medical device company or just getting started, we offer a full menu of services designed to simplify your life.  We have a track record of on-time, on-budget project completion; no surprises. Xeridiem is backed by the financial strength of Fenner plc, the parent company and is ISO 13485:2003 certified, FDA registered.  Learn more about xeridiem at www.xeridiem.com.
About Clear Catheter Systems, Inc.
Clear Catheter Systems is a Bend, Oregon-based medical device company developing an anti-clogging platform of surgical drainage devices. Its lead product is the PleuraFlow® Catheter, which addresses the problem of chest tube clogging after heart and lung surgery. In addition, Clear Catheter has a pipeline of products based on its proprietary tube clearance technology to treat tube clogging in other medical market segments, including a system for the urinary catheter drainage market and the enteral feeding sector as well as systems for standard surgical drains.
More information about Clear Catheter Systems is available at www.clearcatheter.com.
About Carbon Design Group
Carbon Design Group is a full-service product development consultancy based in Seattle, Washington. Carbon delights clients by blending insightful research, thoughtful design, and end-to-end engineering expertise. We apply informed intuition and inspired ingenuity to create stand-out products and experiences that connect. Our holistic approach minimizes risk, speeds time to market, and delivers results that resonate. Carbon is widely recognized for innovation and for the development of iconic product families. Our portfolio of clients includes GE, Intel, Medtronic, Microsoft, Panasonic, Philips, Xbox, and many more.
More information about Carbon Design Group is available at www.carbondesign.com