Three Practices to Speed Patient Recovery by Reducing RBS after VAD Implantation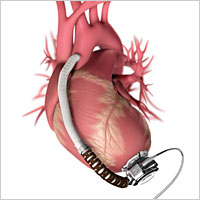 Today, ventricular assist devices (VAD) are routinely used to partially or completely replace the function of a failing heart.1 While this good news for patients with advanced heart failure, there are still significant risks involved – particularly short-term complications that continue to threaten major morbidity. Yet by implementing a few simple but crucial protocols, you may be able to greatly speed recovery, lower the costs of care, and ensure optimal outcomes for your VAD patients.
One of the most prevalent and persistent events hindering recovery in many patients is early postoperative bleeding. The take back rates for bleeding and washouts after VAD implantation tell the story. In large multi-center prospective trials, 1/3 of patients consistently require a take back for bleeding during early post-op.2,3 In fact, the postoperative bleeding is so routinely severe that many programs utilize Delayed Sternal Closure (DSC) after LVAD placement as a tactic to minimize potential for retained blood leading to tamponade and to prevent organ injury.4,5 In DSC the surgeon places chest tubes around the heart and suture sites for drainage, but leaves the sternum open, covered by a surgical dressing or the skin. The patient is then taken back to the operating room in subsequent days, often more than once, to wash out the chest and then eventually close. Even with the newer minimally invasive techniques to implant VADs, these complications persist.
Chest tubes are used to remove blood around the heart and lungs while patients are bleeding. If the chest tubes clog, the patient can have Retained Blood Syndrome (RBS) that require take backs and washouts to remedy.
Here are three tactics being utilized to reduce bleeding complications after VAD implantation and speed your patient recovery.
Take into account that chest tubes frequently clog. Recent prospective observational studies demonstrate that over one in three conventional chest tubes clog after heart surgery. This increases the need for take backs and washouts as well as other forms of RBS.6
Do not rely on drainage manipulation like stripping or milking. Recent best evidence reviews conclude that, due to possible tissue damage and lack of demonstrable benefit in most patients, these old-school practices should not be performed.
Proactively "ACT" to maximize evacuation of shed blood by preventing chest tube occlusion while the patient is still bleeding. New advancements in technology now offer a more effective way to manage bleeding after VAD placement. PleuraFlow® Active Clearance Technology™ (ACT) keeps chest tubes clear, and promotes superior blood evacuation to prevent retained blood complications.7,8,9 Keeping chest tubes open while the bleeding continues, and the coagulation defect is corrected, may result in less retained blood, fewer take backs, and even allow programs to rely less on practices such as DSC.8,9 PleuraFlow has been shown to significantly reduce RBS by 43% in general cardiac surgery patients and now has been shown to reduce RBS by 41% patients recovering from VAD implantation. A large part of this was a 65% reduction in the need for take back for re-exploration for bleeding, suggesting that keeping chest tubes free of clotting during the early hours after VAD implantation can reduce these complications.
To get started, ask yourself: What protocol do we currently use to clear chest tubes? Adding Active Clearance Technology™ may be the next best step to reducing RBS in your recovering VAD population today.
Givertz MM.Ventricular Assist Devices: Important Information for Patients and Families. Circulation 2011;124:e305-e311
Miller LW, Pagani FD, Russell SD, John R, Boyle AJ, Aaronson KD, Conte JV, Naka Y, Mancini D, Delgado RM, MacGillivray TE, Farrar DJ, Frazier OH. HeartMate II Clinical Investigators. Use of a continuous-flow device in patients awaiting heart transplantation. N Engl J Med. 2007;357:885–896.
Slaughter MS, Rogers JG, Milano CA, Russell SD, Conte JV, Feldman D, Sun B, Tatooles AJ, Delgado RM, Long JW, Wozniak TC, Ghumman W, Farrar DJ, Frazier OH. HeartMate II Investigators. Advanced heart failure treated with continuous-flow left ventricular assist device. N Engl J Med. 2009;361:2241–2251.
Schaffer JM, Arnaoutakis GJ, Allen JG, Weiss ES, Patel ND, Russell SD, Shah AS, Conte JV. Bleeding complications and blood product utilization with left ventricular assist device implantation. Ann Thorac Surg. 2011;91:740–747.
Eckman PM, John R. Bleeding and Thrombosis in Patients With Continuous-Flow Ventricular Assist Devices. Circulation. 2012;125:3038-3047.
Karimov JH, Gillinov A M, Schenck L, Cook M, Kosty Sweeney D, Boyle EM, Fukamachi K. Incidence of chest tube clogging after cardiac surgery: a single-centre prospective observational study. Eur J Cardiothorac Surg. 2013;44(6):1029-36.
Shiose, A.; Takaseya, T.; Fumoto, H.; Arakawa, Y.; Horai, T.; Boyle, E. M.; Gillinov, A. M.; Fukamachi, K. "Improved drainage with active chest tube clearance." Interactive CardioVascular and Thoracic Surgery 10 (5): 685–688.
Arakawa, Yoko; Shiose, Akira; Takaseya, Tohru; Fumoto, Hideyuki; Kim, Hyun-Il; Boyle, Edward M.; Gillinov, A. Marc; Fukamachi, Kiyotaka. "Superior Chest Drainage With an Active Tube Clearance System: Evaluation of a Downsized Chest Tube." The Annals of Thoracic Surgery 91 (2): 580–583
Perrault, Louis, Michel Pellerin, Michel Carrier, Raymond Cartier, Denis Bouchard, Philippe Demers, Edward M. Boyle. The PleuraFlow Active Chest Tube Clearance System: Initial Clinical Experience in Adult Cardiac Surgery. Innovations. 2012;7:354-358.